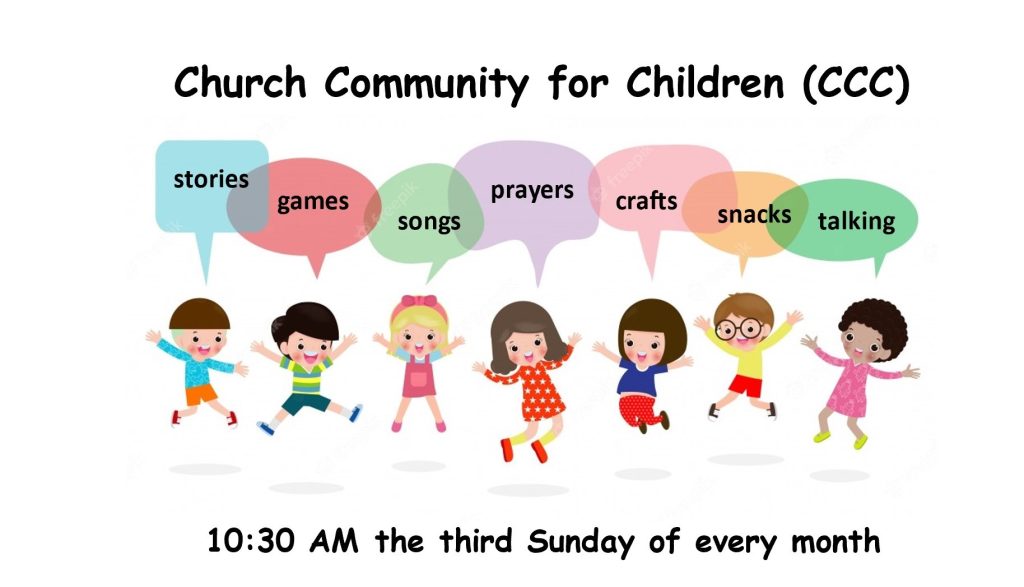 CHURCH COMMUNITY FOR CHILDREN (CCC)
Midhurst United Church is launching an exciting new program for children aged 5+! To date, there has always been an activity space provided for children in our Sunday morning worship area, and an invitation to a special "time up front" with the minister partway through the service. We also like to provide children with opportunities to offer leadership in worship.
Beginning Sunday September 17, 2023, we will be providing an enhanced program that will invite children to experience faith community in fun and creative ways. On designated Sundays, children will participate in worship for the first few minutes, and then leave with their program leaders for CCC gathering time in the Family Room and the Old Sanctuary.
CCC program will be provided the third Sunday of every month. The dates for Fall '23 are September 17, October 15, November 19, and December 17. Of course, children are welcome any and every Sunday!
Come Join us at Midhurst United Church
Welcome to Midhurst United Church. As a community of faith, we come together to share love and support for our local and global neighbours. Individually we strive to understand God's particular purpose for our lives. You are invited to join us in this community-building and exploration.
Our Sunday morning gatherings provide us with a pause in the week for quiet reflection, spiritual grounding and community connection. We invite you to join the conversation and become part of our community.
On months with 5 Sundays we hold a "Fifth Sunday Special". This worship service is more informal and involves more music – both vocal and instrumental. Same time! Same place! Same welcome!
We offer both in-person and live-streamed worship services via ZOOM.
Following the service, there is an opportunity to greet friends and neighbours over coffee/tea and light refreshments in our family room meeting space. Our on-line worship and Sunday morning "coffee hour" are still going strong. Simply click here to join us for worship at 10:30 Sunday morning through ZOOM.
Do you have questions about Midhurst United Church or need some help connecting to the worship service? Call the church 705-722-6331 and leave a brief message and your phone number on the answering machine. Someone from Pastoral Care or Technology Support will return your call.