Midhurst United Church
Midhurst is situated on the traditional lands of the Anishnaabeg people and we acknowledge their stewardship of this land throughout the ages.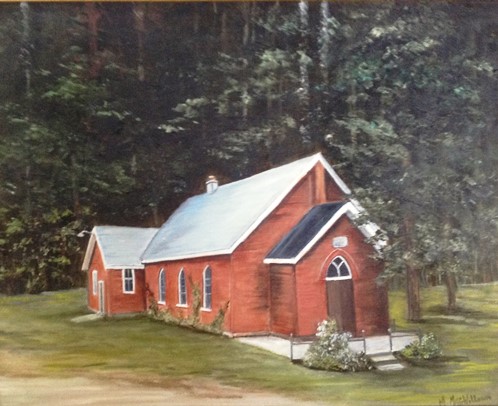 In the early 1820's Oliver's Mills (later renamed Midhurst, after a small town in England) was settled by English, Scottish and Irish emigrants. They brought with them their many trades (farming, blacksmithing, carpentry, masonry etc.) and their Christian faith. During the early years the people of faith were invited to hold services in the homes of the members of the community.
In 1854 a hall was built on the east side of the site of the old St. Paul's Anglican Church property on Doran Road. The settlers held church services here until the building of the first St. Paul's Anglican Church in 1881. Union services between Anglicans and Presbyterians were conducted until 1883 when the new church was consecrated. At that time, the Presbyterians returned to the town hall to hold services until January 12, 1885 when a congregational meeting was held and a decision was made to try to build a church. A collection that night raised $79.00 from 10 families and their 22 members. It took 2 years of planning and gathering up the necessary materials. The only materials purchased were cement and nails. Mr. William Finlay gave a corner of his farm land for the Church site.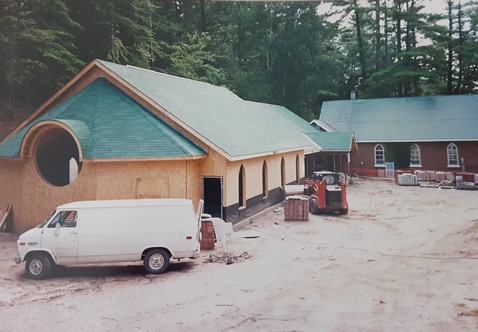 The Presbyterian Church of Midhurst, a lovely frame building, later bricked, was dedicated on August 1887 by Rev. D.D. McLeod of Barrie.
In 1903 a manse was purchased from Alex Finlay. The Presbyterian ministers (who served Midhurst as well as Minesing and Edenvale at the time) lived in Midhurst until 1918. In 1918 the Midhurst manse was rented and later sold in 1927.
On June 10, 1925 the Methodists, Congregationalists and Presbyterians were united to form the United Church of Canada, thus our name changed to Midhurst United Church (MUC).
In our 106th year, On November 7, 1994 Midhurst United Church members worshipped in our brand-new sanctuary.
Today we continue to enjoy worship services and maintain strong fellowship connections through social gatherings, fund raisers and community outreach. We welcome and serve local and neighbouring, past and present, old and new family names of Midhurst. Some members of our current congregation are descendants of the early pioneers of Midhurst.
References:
Coutts, Helen. History of Midhurst United Church – a play performed March 6, 1987. unpublished manuscript, 1987
Midhurst Historical Society. Pioneer History of Midhurst 2nd edition. Midhurst Historical Society, 1975.
Ministers of Midhurst United Church
1882 – 1886 Rev. J. Geddes
1886 – 1887 Rev. J. Gilmore
1887 – 1888 Rev. T. McGee
1888 – 1892 Rev. H. Knox
1892 – 1894 Rev. W. R. McIntosh
1894 – 1895 Rev. H. Tinkham
1895 – 1898 Rev. W. W. Wallace
1898 – 1902 Rev. T. Paton
1902 – 1907 Rev. M. Robertson
1907 – 1908 Rev. J. McLean
1908 – 1915 Rev. A. Shepherd
1915 – 1918 Rev. L. H. Thom
1918 – 1922 Rev. J. A. Leece
1922 – 1925 Rev. S. J. T. Fortner
1925 – 1927 Rev. M. O. Price
1927 – 1930 Rev. A. M. Pope
1930 – 1933 Rev. G. G. Stotesbury
1933 – 1938 Rev. G. A. Cruse
1938 – 1941 Rev. F. W. Madden
1941 – 1951 Rev. W. R. Clements
1951 – 1957 Rev. J. S. Veals
1957 – 1959 Rev. J. L. Vinet
1959 – 1961 Rev. J. Robinson
1961 – 1962 Rev. J. Barnard
1962 – 1966 J. F. Bunner (student)
1964 – 1966 J. Cullen (student)
1966 – 1969 Rev. G. C. Weir
1969 – 1971 Rev. J. Firman
1972 – 1975 Rev. C Brittain
1975 – 1981 Rev. H. Kemp
1977 – 1980 Rita Chamberlain
(Diaconal minister)
1980 – 1981 Rev. R. Johnson-Kemp
1982 – 1987 Rev. D. Bish
1986 – 1987 Susan Butler-Jones
(Diaconal minister)
1988 – 1992 Rev. Michael Hermann
1992 – 1994 Rev. John Lawson (interim)
1994 – 2005 Rev. Peter Kingsbury
2005 – 2008 Rev. C. Heather Graham
2008 – 2010 Rev. Arch McCurdy
2010 – 2016 Rev. Audrey Brown
2016 – 2020 Rev. David Howes
2021 – Rev. Judith Visser